I came up with a better way to do weapon aiming. In order to implement it I had to rewrite some parts of the editor to make it work more like Maya. All of the objects in the editor (Joints, IKHandles, and Quads) are now derived from the same base class, called a TransformNode, which has translation and rotation values. They are all contained in the same hierarchy, with a single root node. Here is an example of how this system can be used for aiming: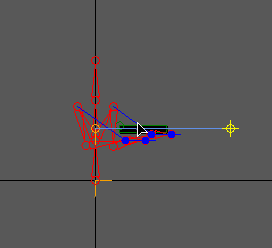 In this example, the aim animation rotates the node that the IK handles are grouped to. The shooting/recoil animation moves the IK handles.
It seems so obvious now that this is the correct way to do it; I'm not sure why I didn't think to do it this way earlier. This system uses the IK handles directly, so the hands are always placed correctly. It's also more flexible and consistent than what I had in my previous post.